Our annual holiday week 4th of July "snapshot" the nation's economy commences with this week's post.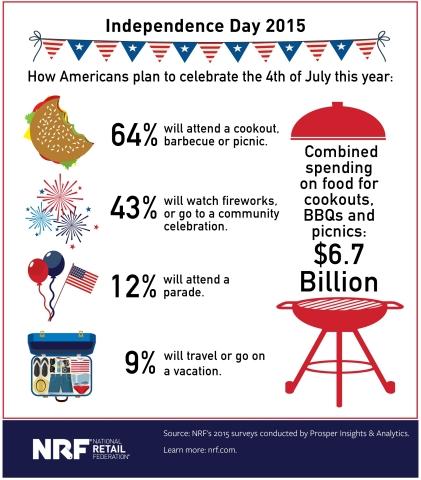 In last summer's Independence Day overview, we noted a AAA report saying that more Americans were planning to travel, due to the uptick in the economy, even though gas prices were then at their highest levels in years.
This year, the Auto Club says even more Americans will be traveling: "41.9 million….the most in eight years."
Once again "a stronger economy… is helping to boost the number of planned getaways over what is traditionally the most traveled holiday period of the summer, with kids out of school and families kicking off vacations." And gas prices? Well "cheaper gas is allowing Americans to spend pennies saved at the pump on other activities."
Some of those activities would seem to be "food-based," as befits the middle of our three summer holidays dedicating to grilling.
"The National Retail Federation's annual Independence Day survey of consumers said 64.4 percent of Americans are planning to either host a cookout, or attend one. Spending on Fourth of July cookout food will average $71.23 per household, up from $68.18 last year," according to one article.
What do all those $70 expenditures mean in the aggregate? "The NRF said total spending on food items for the holiday is estimated to reach $6.6 billion."
That's a lot of millions.
The head of one of the nation's largest supermarket retailers, Kroger's, says that food spending is harbinger of a still-improving economy: "Chairman and chief executive officer W. Rodney McMullen says that the improving US economy helped the retailer sell more products.
'We are pleased to see the economy moving in the right direction,'… McMullen said that many consumers are splurging on more expensive items like Murray's Cheese, Starbucks coffee, and Boar's Head deli meats."
And not just on the grill-it-yourself end, either. According to the same Business Insider article, "Earlier this year, Darden Restaurants, which owns Olive Garden and Longhorn Steakhouse, indicated consumers are feeling more comfortable than usual.
"'For the first time in a long time we're seeing alcohol sales grow, add-on sales grow, dessert sales grow," executives told investors." The article calls this "a good sign for the economy because it shows people are spending on extras."
Which means they'll  be spending for both the extras, and necessities, that you offer them in your own business. So let AVPS help you gear up — for multiple payment platforms, new EMV readers, more security — anything to get ready for when your customers are back from their road trips, and about to start buying from you again.
And may your 4th both sparkle, and explode, with good memories and safe passage!